Your Team
About Sam Ridley Parkway
Welcome to First Tennessee Bank and thank you for specifically choosing the Sam Ridley Parkway Financial Center. We welcome the opportunity to serve you and help Power Your Dreams. Please browse our website and call or email me with any questions or comments you may have.
Meet Nathan Harding, Your Financial Center Manager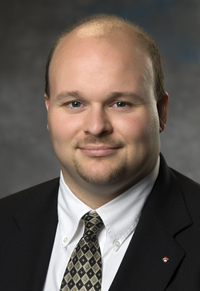 Personal Statement
Personal banking relationships that our parents and grandparents enjoyed a few decades ago have seemingly become a thing of the past. As banks have grown in size and footprint, customers seem to have become an account number rather than a name. Its great to work in a bank that has remained loyal to its roots and customer base. At First Tennessee Sam Ridley, we take great pride in providing individualized attention to our customers. When you need to talk to someone at the local financial center, you wont have to call an 800 number or press 0 for an operator. We invite you to come in and see that difference we offer. We know you will be delighted with the service you receive.
Experience
I have been in the Financial Services Industry for 10 years, 4 of those with First Tennessee Bank.
Education
2002-Master of Business Administration, Middle Tennessee State University, Research focus on Academic Integrity. Publications included in the 2002 Proceedings of the Society of Business, Industry and Economics Journal and the 2003 Proceedings Journal of the Atlantic Marketing Association. Conference Presentations/Invitations include the Spring 2002 Society of Business, Industry and Economics and the Spring 2003 Atlantic Marketing Association Conference. 1999-Bachelor of Business Administration, Middle Tennessee State University
Community Involvement
Actively involved with Fellowship Bible Church (Murfreesboro, TN) Sunday School Program, Murfreesboro Baseball Association (Board Member and Coach), Rutherford County TYBA Baseball (Coach), YMCA Youth Sports, One Goal Sports (Murfreesboro, TN), and the Smyrna-LaVergne Foodbank
""Nate recently helped me and my wife with a Home Equity Line of Credit. He was able to provide us with some different options to help us meet a financial need. The process was easy and Nate kept us informed every step of the way. I definitely recommend doing business with Nate and his team.""
Michael S, June 2012
"I am a longtime customer of First Tennessee...Upon opening this restaurant in Smyrna I met Nate and his team. They have always been very helpful, friendly and good people to do business with as well."
Mark Watson, Firehouse Subs
""First Tennessee provided financing for our recent home purchase in Middle Tennessee. Nate was totally committed to the process. He was on top of it from the beginning to the end. He worked hard to make sure everything was correct, kept us informed, and found the best loan for our situation. The loan approval came very early and we were impressed by his integrity. This level of banking service sets the standard in the industry.""
David H, May 2012